Thanks for printing! Don't forget to come back to Zerorez Wilmington for fresh content!
A Clean Home is a Healthy Home™
Zerorez® has been lab-tested and proven to clean at the highest levels possible. No other cleaning method out cleans Zerorez®.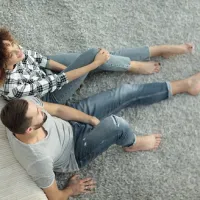 We're Here For You
As residents of the Wilmington area, we are all experiencing a time of significant anxiety and stress. At Zerorez, we are impacted too, and we truly want to help. Learn what the CDC recommends for cleaning your home and carpet.
Learn More
The only choice for a true clean that lasts longer.

Zr Clean™ & Patented Technology
Our legendary 30 day Gotta Love It Guarantee®
Our Gotta Love It Guarantee® means we're not happy unless you are! We will come back, no questions asked, if you are not happy with any part of your service. No hassles and no worries.
No Soap Lingering to Attract Dirt.
Our Zr Clean™ technology allows us to clean and refresh your surfaces without the use of detergents or harsh chemicals, which means your carpet stays cleaner longer, unlike other residential and commercial carpet cleaning companies in Wilmington.
Your Surfaces Dry Twice as Fast with our patented truck mounted equipment.
Zr Clean™ is applied to your carpet through our patented spray system that loosens embedded dirt to the base of the fibers using six high-efficiency jets. Our extraction wand outperforms the top selling wands on the market by removing embedded soils, and detergents left behind by other cleaners, and other debris while allowing for a faster drying surface.
Platinum Certified by the Carpet and Rug Institute
Not only is this the highest approval rating possible from the Carpet and Rug Institute, Zerorez® is rated the #1 cleaning system in the nation by an independent testing laboratory. When we clean, there is nothing left behind.
No harsh chemicals means Pure Safety for your family and pets.
Since Zr Clean™ doesn't use any harsh chemical additives, your surfaces are perfectly safe for your family and pets, no matter how small.

Schedule Service Online
Carpet Cleaning Wilmington NC
We can help you create a clean and healthy living environment in your home or business. Our thorough cleaning process has been lab-tested and proven to clean at the highest levels. When we come to clean, we don't just come to make your carpets look nice, to improve the overall cleanliness and health of your home.
Our Zero Residue® cleaning process consists of four simple steps. First, we apply a non-toxic, food-grade enzyme that eliminates unpleasant smells instead of merely masking them. Then, we clean the area with our Zr Water® solution, which is completely safe for kids, pets, and the environment. This green cleaning solution cleans better than soap! Lastly, we dry your surface quickly. With traditional carpet cleaners, this step can take a long time, but not with us! Our drying times are up to 2x faster than our competitors. This is great news for you so that you can be back on your carpets attending your normal at-home activities as soon as possible.
The Zerorez® process saves you time and money by cleaning your carpets with Zr Water® that won't leave behind a residue like commonly used harsh chemicals, detergents, and soaps do. With our Zero Residue® process, your carpets will not only look cleaner, but they will also stay cleaner longer. So, what are you waiting for? Give us a call or schedule an appointment online today with the best carpet cleaning in Wilmington North Carolina.
Upholstery Cleaning Wilmington NC
Upholstered furniture such as your couch, recliners, and ottomans attract tons of bacteria and filth. Why? Because they are made up of materials with porous surfaces. Each time you take a nap, watch a movie, or read a book while cuddled up on your furniture, things like sweat, dander, or dirt find their way into the fabric. All these nasties build up and cause unpleasant odors. Upholstery cleaning is essential to keep your furniture cleaner and in tip-top condition! Our cleaning technicians at Zerorez® know how to treat different types of upholstered furniture, despite your upholstery's fabric, make, and colors.
Can the Zerorez® Carpet Cleaning Process be used on Upholstery?
The answer is yes! Of course, carpet cleaning and upholstery cleaning are two very different things. Carpets are thick and shaggy, while upholstery is often more thin and delicate. Our process of cleaning carpet and upholstery cleaning is adjusted to the surface's specific needs. Another amazing thing about Zerorez® is that we only use our revolutionary Zr Water®! It is completely safe and effective to use as both a carpet and upholstery cleaner. Zr water® is free of harsh chemicals, soaps, and detergents.
Oriental Rug Cleaning Wilmington NC
Our team uses the gentlest products to clean your delicate rugs. We treat the delicate fibers of fine and specialty rugs with extreme care. Not only do we clean your rugs in a way that restores their vibrant colors and protects them from further wear and tear, but we also use products that are environmentally friendly and safe for all the pets and people who live in your home.
Zerorez® Carpet Cleaning Services
Revolutionary Cleaning Services Offered in Wilmington
Zerorez® is the best Wilmington carpet cleaning company the area offers because of our revolutionary cleaning services. In addition to our professional carpet cleaning that is safe for kids, babies, pets, and the environment, Zerorez® offers more professional cleaning services that will improve the health and cleanliness of your home. Those services provided in Wilmington include:
Carpet cleaning services
Area rug cleaning services
Oriental rug cleaning
Tile and grout cleaning services
Upholstery cleaning services
Pet odor removal services
Hardwood floor cleaning services
Granite floor cleaning services
Pet Stains and Odor Treatment
Furry friends add fun to any home - but they can also add unwanted aromas. Traditional carpet cleaners rely on perfumes or deodorizers that add residue to your carpet and work only temporarily to mask these odors. The non-toxic, food-grade enzyme that Zerorez® uses to pre-treat your carpets before cleaning has a pretty cool feature. It not only gets the carpet ready for the main cleaning; it destroys unpleasant smells!
Traditional carpet cleaners often only address the visible animal waste on top of the carpet but leave a much larger problem underneath the carpet. The problem with this standard method of spreading perfumes, oils, or other odor masking agents around the cleaned area is that these agents offer only temporary results to fix your problem of unpleasant smells. This is traditionally done because they do not have a permanent solution for cleaning and eliminating odors in the carpet backing, padding, and the floor's subsurface. At Zerorez® Wilmington, we have come up with a solution that will do much more than simply mask unpleasant smells. Our non-toxic, food-grade Zr Clean™️ is simply made to permanently destroy unpleasant odors on the surface and far beneath, permanently instead of just hiding them.
Tile and Grout Cleaning
Zerorez® is more than a unique professional carpet cleaning process. It can also clean and restore tile and grout. Our patented cleaning process, which uses Zr Water®, removes dirt from the surface of your tile and improves the color of your grout. Our trained technicians then apply Zr Water®using a high but safe pressure. After cleaning your tile and grout, we coat your floors with our proprietary surface sealer. The sealer protects your floors and will keep them looking beautiful for many years to come.
Wilmington, NC
Wilmington is an independent city in the U.S. state of North Carolina, located on the Cape Fear River near its mouth at the Atlantic Ocean. In 1847, Wilmington became a port for exporting tobacco to Europe. Goods came into the city's warehouses from inland farmers who had shipped their products downriver on rafts built just below this location where they were unloaded onto waiting coastal ships bound for European ports. The construction of railroads after 1850 led to further inland population growth and agricultural development around Wilmington.